re-sources for actionable of sustainability in beauty

resources for actionable sustainability in beauty
want your BEAUTY brand and business to make a positive and genuine impact on
the world?
all about sustainability
Innovate, get creative and answer consumers' 'real' expectations

Upgrade your entire range to sustainable sourcing, manufacturing and distribution

Implement scalable, manufacturable solutions and keep the costs on track

understand the 360° impact of your business to the planet, and stop the waste cycle

Change the world and bring meaning and freedom back into your life
Hand-Picked Experts
hand-picked seasoned professionals in packaging, formulations, regulations and marketing, from the supply side or the brands
Globally Oriented
One place, One time, One programme to learn from wherever you are in world.
One common theme: sustainability

Find Power with Knowledge
feel empowered to make informed decisions and learn why you should make specific business choices.
develop your career.

join the community
connect to an ecosystem of like-minded professionals to learn and share experiences
&
join weekly live Q&A sessions with our Experts
2 modules at once
get the five modules at once, and benefit from a 20% discount
Built for beauty professionals by beauty professionals
TAILOR MADE FOR:
Marketing directors
NPD (new product development) managers and directors
Product development directors
R&D directors
Innovations directors
Consumer insights directors
of BEAUTY BRANDS
re-sources will help you implement the Sustainable Development Goals set by the UN into your brand / business
Join the community

Stay current. Subscribe to our newsletter.
Our weekly email newsletter, is an indispensable weekly digest of the latest updates on industry insights, latest news and opportunities.
Anyone can subscribe. Just fill in your email address above. It's easy to unsubscribe or change your preferences whenever you wish.
our professionals subscribers have
a few nice things to say about us
"This training was great to get the latest advances of the beauty industry. I would highly recommend to NPD & marketing managers.
Having speakers from different fields allowed us to gain a 360 view, and dived into the complexity of the issue.


There is just so much information out there, you don't know who to trust. Re-sources gives the information a stamp of approval and trust."
MARIE MAILHOS

"I have been researching sustainable packaging for a couple of years, it has been quite the journey!
The course was so comprehensive and detailed it really helped a lot. I am really happy with the quality and amount of content
(it was so hard finding sources that were not biased or contradictory).
I feel I have such a better understanding now of where we are at exactly and the real challenges ahead. I also feel very confident that we will get there
"
Yasmina Liebel
founder
INDIGÈNES
"I learnt so much, there was a huge number of materials and resources. The course was very detailed and had so much useful information. The course was fantastic!
I loved the education about plastic and the recycling/sorting chain, I think this is going to be extremely helpful to other businesses. I feel more confident about my product development and claims made.
I also loved hearing about the innovations and doing the quizzes!
"
LAURA TUDOR
from left to right

Eva Lagarde (our founder),
Agnès (her mother),
and Chantal (her twin sister)
I grew up in the countryside of France. In the South West, in the Dordogne more precisely. My grandparents were dairy farmers and I spent all my summers with them as a child. We were doing all sorts of farming activities including - but not restricted to - milking the cows, feeding the flock, hiding in the corn fields or napping in the hay bales. It was a glorious childhood that brought me close to the meaning of "care for the planet'" and "hard work".

My mum, the eldest of 7 children, almost brought us up alone (me and 3 siblings). She's hard working, passionate and loving and taught me the values of LOVE and CARE. If it wasn't for her, who knows where I'd be today.

I have learnt from a young age, from my grandparents and my mum, that with passion, creativity and perseverance, you can achieve pretty much anything in life!

All of this is to tell you that I'm sharing this platform to bring meaning back to our lives and our work, and to connect us with the best of the best in their fields.

I'm always about innovation. Scouting the latest trends and products over the world with sustainability in mind.

I've been working in the beauty industry for over 15 years. It started with Cosmoprof (the leading B2B beauty event), and continued with MakeUp in shows and then Premium Beauty News (leading B2B publication) where I was in charge of business development, marketing and events.

I've hosted, in the last four years, annual events about innovation in beauty packaging, make-up, skin-care and fragrance in Paris.

Now I want to make my network and knowledge available to more people, not just French prestige brands, but all Beauty Brands looking to build a more sustainable future.

This platform is called RE.SOURCES as a meaning to go back to the source of everything, giving back to the earth what she gave us, a sort of "retour aux sources" (in french).

Will you join me in this journey?

Let's leave a great legacy to this world!

Eva Lagarde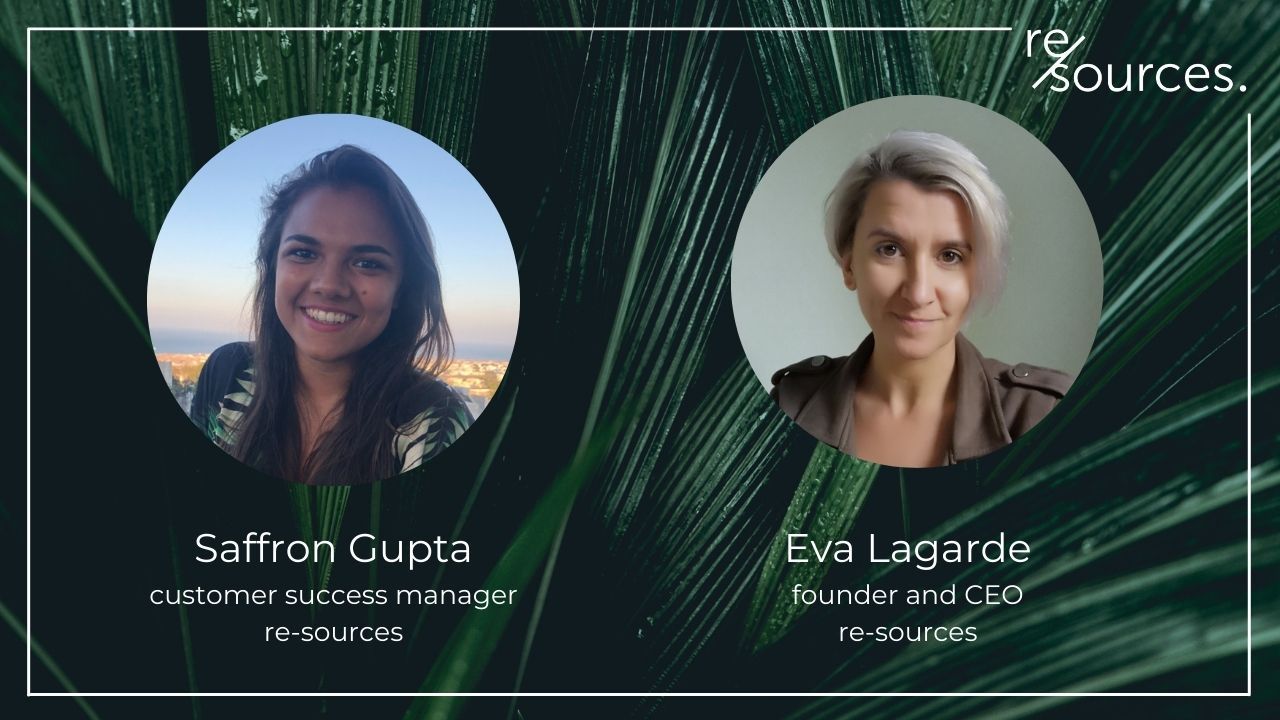 Need more info on our courses?
Need help with your sustainability strategy?
Created with